Roll over image to zoom in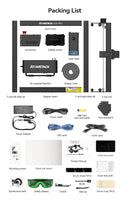 Description
The Atomstack A20 Pro is the world's first quad-core diode laser engraver, with the build-in powerful air assist, it can cut 12mm solid wood and 8mm acrylic in one-pass and even cut 0.05mm thin sheet metal. Four 6W lasers are coupled into a 20W super laser, making the A20 pro the absolute ruler in the filed of engraving and cutting.
256 Different grayscale makes the Atomstack A20 pro more than black only: According to the different grayscale information from the picture, the laser energy is automatically adjust to achieve the finer contrast of the finished projects as well as more natural transition between colors.

Able to engrave and cut more material: With 30W laser power, more than 40 material could be engraved, include many material was unable to be carved as well as cutted by 5W neither 10W laser.
12-15mm thickness solid wood board cutting off with ony one pass: High-performance air assist makes cutting faster as well as improving the results, achieving a cleaner surface.

Support engraving offline: Stand-alone operation terminal able to control the engraver without a mobile neither a computer, engraving without connecting to a computer is supported.

Multiple machines working at the same time: Independent operation terminal control, no computer connection is required, it is convenient to build a huge engraving group and improve production efficiency.

The cutting capacity of 20W laser is 2 times that of 10W: Innovative four-in-one spot shaping technology achieve longer and thinner laser, core working area up to 18-20mm, able to cut material which the 10W lasers are unable to cut.
Payment & Security
Your payment information is processed securely. We do not store credit card details nor have access to your credit card information.