Roll over image to zoom in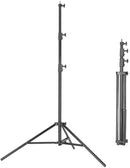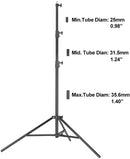 Description
Brand: Laofas
Features:
Adjustable Height ||: This Air-Cushioned Light Stand is a aluminum support that rises to a Max. height of 110Inch and Min.Height 46Inch(9 feet to 3.8feet),making it possible to get the perfect lighting angle needed.

Air-Cushioned Light Stand ||: Air cushioning gently lowers the light when making height adjustments to protects equipment and fingers from damage,Using aviation aluminum material, making it strong for heavy duty work.

Compact Design ||: It is also of light weight only 2.3kg, and can be folds down to 42inch for storage and transport,making it portable and easy to store after use. The thickened tube diameter design can improve stability and effectively shockproof.The foot tube diameter is about 25mm, So the support power is greater and more stable.Secure Locking Mechanism||:  Equipped with custom molded fastensters for maximum support,Its solid locking capabilities makes your lights safe.
Universal mounting Thread ||: The stand will handle up to 33 lb and is topped with a 1/4"-20 and 3/8"-16 threads,used for or Aputure 120D II 300D II Godox SL-60W SL-150W FV150 FV200 AD300PRO AD400PRO AD600BM and Other Photographic Equipment,supports all major brands of photo equipment such as reflector, softbox, different lights, umbrella, background, strobe flash lights, etc .
Payment & Security
Your payment information is processed securely. We do not store credit card details nor have access to your credit card information.