Roll over image to zoom in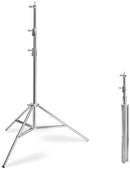 Description
Adjustable Height ||: This LAOFAS Stainless Steel Light Stand support that rises to a Max. height of 106Inch and Min.Height 53Inch(8.8 feet to 3feet),making it possible to get the perfect lighting angle needed.

Spring Cushioned||: protect your precious photographic equipment such as the brackets, strobe flash light/speed light, reflectors, softboxes and umbrellas from damage.

Durable and Portable ||:Stainless steel construction is corrosion-resistant and long-lasting, protecting the light stand from air pollution and salt exposure , this light stand weight only 2.6kg, and can be folds down to 38inch for storage and transport,making it portable and easy to store after use. Come with a portable carrying case,you can easily to take it anywhere you want to go.

Variable Tension||: allows you to loosen or tighten the sections incrementally, to safely raise and lower each section,Sure-twist section locks adjust your lights and securely lock them into place.

Universal Mounting Thread ||: The stand will handle up to 17lb and is topped with a 1/4"-20 and 3/8"-16 threads,used for or Aputure 120D II 300D II Godox SL-60W SL-150W FV150 FV200 AD300PRO AD400PRO AD600BM and Other Photographic Equipment,supports all major brands of photo equipment such as reflector, softbox, different lights, umbrella, background, strobe flash lights, etc.
The LAOFAS Light stand is a very useful accessory for photography, you can mount on it with many other accessories such as the flash units, light lamps, reflector umbrella, and so on, which make it very easy for you to layout the photograph scenes.
The stands we offer are lightweight but robust and durable enough with max supportable weight up to 2.6KG.
Adjustive height 135cm--270cm with universal 1/4" thread allow you to attach almost all light assemblies on it.
Key Features:
Material: LAOFAS Stainless Steel Light Stand
Lightweight, durable materials, stable, robust construction
Easy height adjustment
Minimum height: 270cm/106Inch
Maximum height: 135cm/53Inch
Max. load capacity: 17lb
Folded height: 38Inch
Net weight per light stand: 2.6kg
3 stage centre shaft: Min.Tube Diam: 25mm ;Mid. Tube Dian: 30mm ; Max.Tube Diam: 35mm
Payment & Security
Your payment information is processed securely. We do not store credit card details nor have access to your credit card information.