Roll over image to zoom in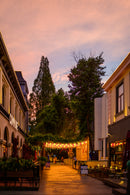 Description
Designed for full-frame Sony E-mount, Canon RF-mount, Nikon Z-mount and L-mount mirrorless cameras, but can also be used with APS-C models where it provides a 52.5mm equivalent focal length.

Bright F/1.4 maximum aperture suits working in low-light conditions and also affords greater control over the depth of field. Additionally, a 10-blade diaphragm is featured and contributes a smooth bokeh quality.

Design renders a 63.2° angle of view to produce a distinct visual, it is perfect for still-lifes, close-ups, streets, and travel photography.

Manual focus design, capable of focusing as close as 30cm away. The clicked aperture ring is stepped with the right amount of resistance and click, marking full stops from F/1.4 to F/16.

Multi-layer coating & lens hood protection, suppress flare and ghosting for greater contrast and colour fidelity when working in strong lighting conditions. The included lens hood provides some protection for the lens but more so, helps to prevent stray light from causing flare.
Compatibility:
Sony E-Mount Cameras A7 A7II A7III A7R A7RII A7RIII A7RIV A7S A7SII A7SIII A9 A7C A6400 A6000 A6600 A6100 A6500 A6300
Canon EOS-R Mount Mirrorless Cameras EOS R RP R5 R6
Nikon Z-Mount Mirrorless Cameras Z5 Z6 Z7 Z6II Z7II Z9
L-Mount Mirrorless Cameras T TL TL2 CL, DC-S5 DC-S1H DC-S1R DC-S1 DC-BS1H an fp fp-L
What is included:
1* PERGEAR 35mm F1.4 Lens
1* Front Lens Cap
1* Rear Lens Cap
1* Lens Hood
Payment & Security
Your payment information is processed securely. We do not store credit card details nor have access to your credit card information.