As a photographer, whether you are a professional or an amateur, camera and lenses are an important part in your shooting. Your investment in photography equipment slowly adds up to thousands and tens of thousands of dollars, like you careful treat your loved car, you also need to maintain and care for your photography gear regularly. As the saying goes, a beard well lathered is half shaved, please keep your camera and lens clean, because sometimes a dirty lens with a sticky camera body may already be warning you of a failed shot.
If you look for a guide on how to clean your cameras and lenses, check out this blog: How to Clean Camera Lens (Ultimate Guide)
Back to the topic, today I would like to introduce a new product to you: Nitecore BlowerBaby Electronic Cleaning Air Blower. This electronic cleaning air blower for camera and len is a new-release product this year from Nitecore, a company known for its production of professional tactical flashlights and outdoor lighting.

Now join us to take a closer look at this product, as the industry's first electric air blower, it is as good as advertised and worth buying?
Key Features
Strong Wind: Max wind speed of 70 km/h (43.5 mph), which is two times the traditional blower.

Electric drive: Built-in 1,500mAh Li-ion battery, and rechargeable with USB-C port.

Unidirectional air intake: prevent secondary damage to the object surface from dust. (A high-density filter is included for effective dust filtration)

Wide Range of Usage: Applicable to the cleaning of photographic equipment and more devices, such as cameras and lens.


Price
Prices vary depending on package content:
$79.95 = BlowerBaby
$83.95 = BlowerBaby+COMS Sensor Filter
$89.95 = BlowerBaby+Cleaning Pen
$93.95 = BlowerBaby+Cleaning Pen+COMS Sensor Filter
Buy on Amazon: BlowerBaby Buy on Pergear: BlowerBaby
Design
The entire Nitecore BlowerBaby cleaning kit contains a BlowerBaby electronic air blower, a standard filter, a USB Type-C charging cable, an COMS sensor filter for the sensor, a camera cleaning pen.
The cleaning pen has three built-in cleaning components, namely the camera body cleaning brush, a lens wool brush and a magnetic toner cleaning head, which are placed in a magnetic storage case to avoid losing them. The addition of this cleaning pen allows for a deeper and more thorough cleaning of the parts of each piece of photography equipment that needs to be cleaned.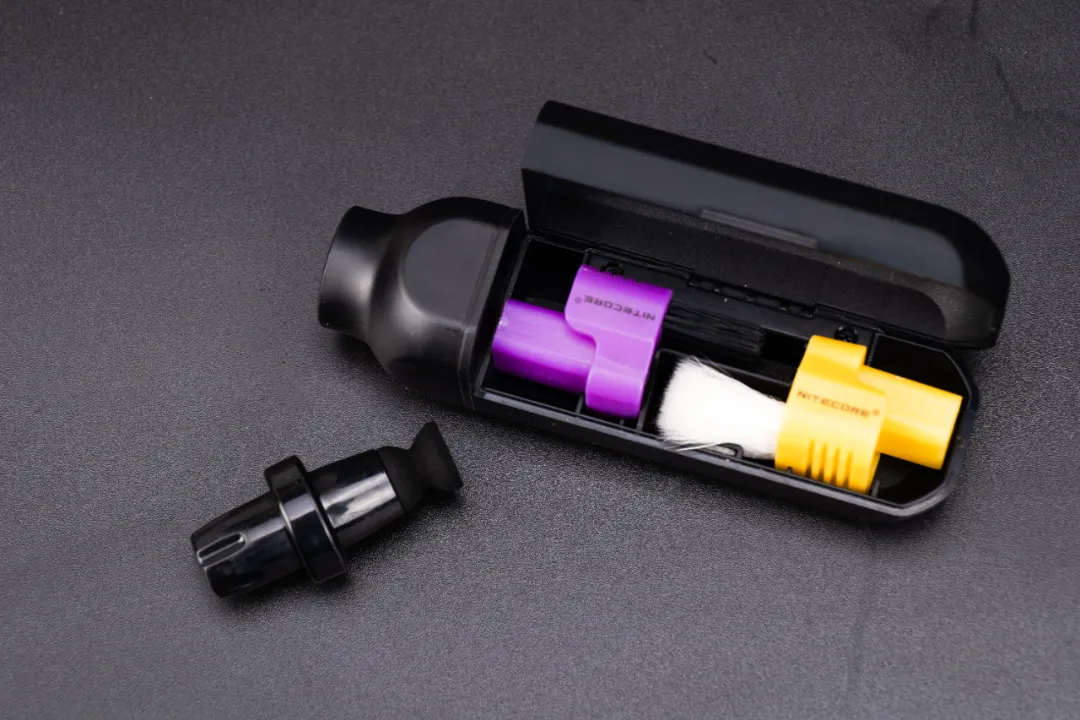 The electric air blower for camera and lens named BlowerBaby (for the convenience of reading, we will briefly refer to this product as the "BlowerBaby".), it is made of aerospace-grade aluminium alloy as a whole, to ensure sturdy and durable at the same time, the overall grip is very textured and comfortable to hold in the hand; the size is 137mm × 61mm × 30mm, weighing 153g, the entire product just flat in the palm of your hand, very light and compact, it is also very convenient to store in the camera bag and will not take up too much space in your bag.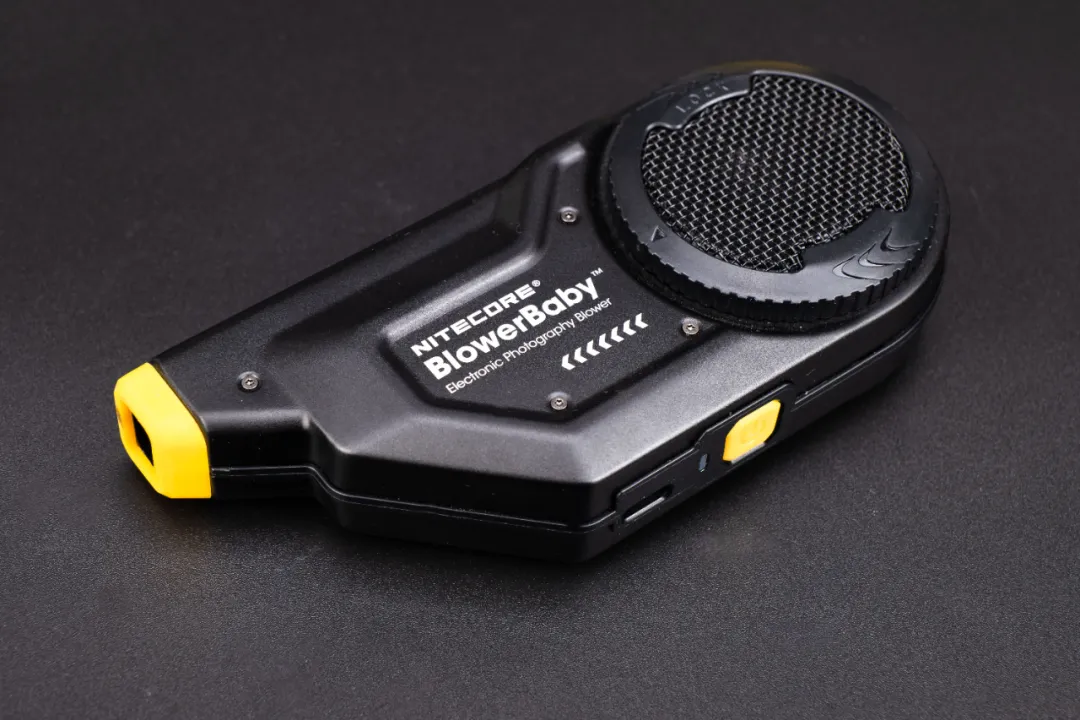 The air outlet of the BlowerBaby is Nitecore's signature yellow silicone mouthpiece, which can avoid scratches when cleaning equipment and products directly without attention. The size of the air outlet is 14 × 9mm, compared with the rubber air blowing, the air delivery area is much larger. There is a lanyard port in the upper right corner of the BlowerBaby, so you can put a short cord on it to hold it in your hand or hang it on a hook in your room for your convenience.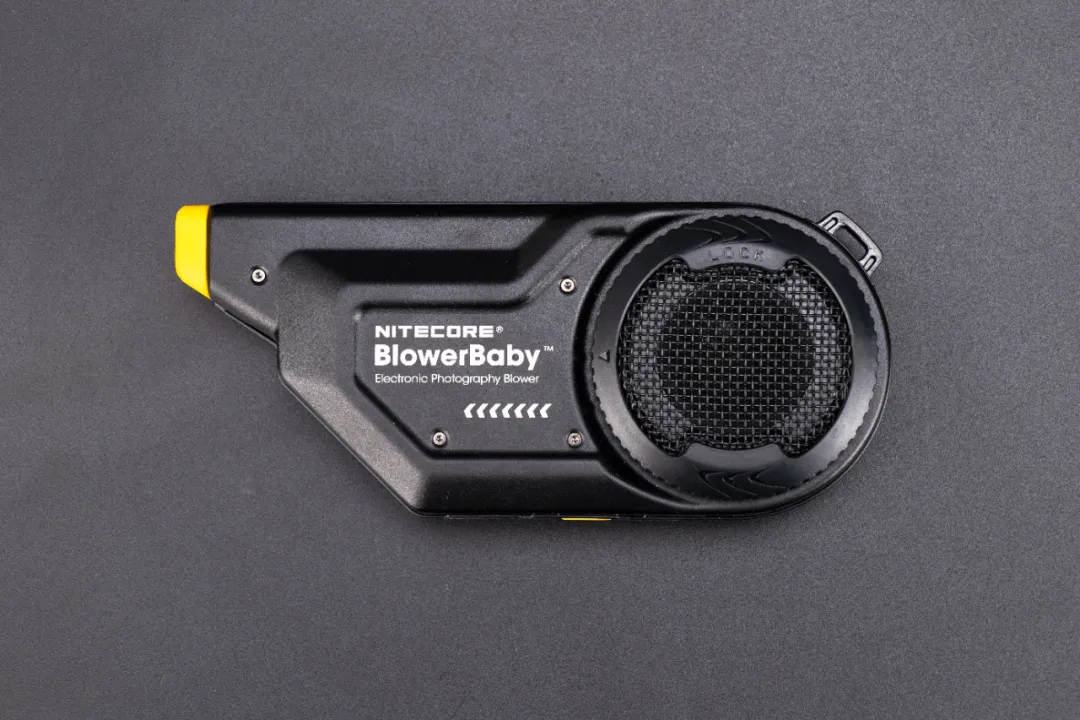 In the rear of the BlowerBaby is a fan wheel with 26 mm diameter suction holes to ensure sufficient airflow. BlowerBaby comes standard with a black filter cover to avoid inhaling debris. The outside of the filter cover is a metal mesh cover and the inside is a fine cloth mesh cover, the combination of the inside and outside mesh can block and protect large particles to small particles.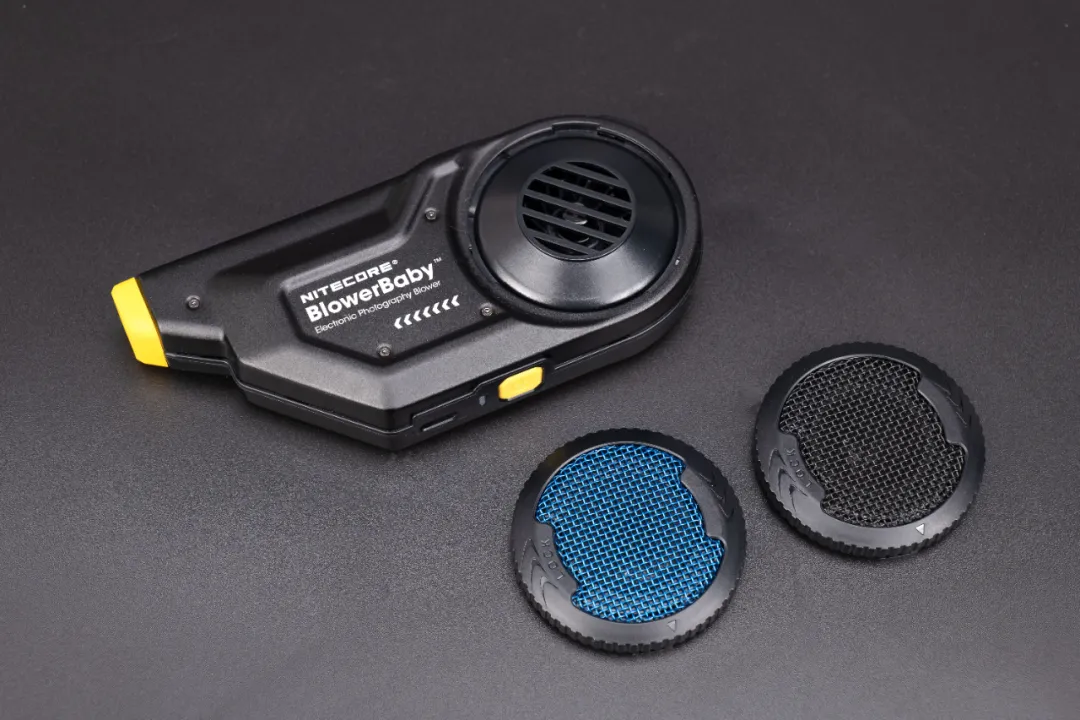 The optional blue filter, which has a denser internal fabric filter compared to the black filter, it can filter out very small particles, while the wind speed will be reduced to 50km/h (70km/h with the black filter), the air will be slightly softer, if you want to clean the camera sensor, add this blue filter when you buy it.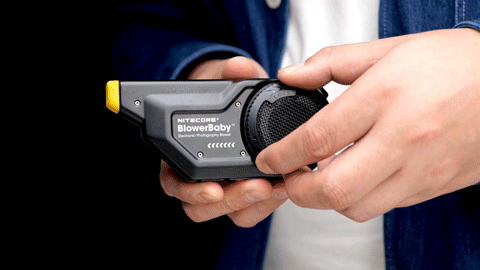 Below the BlowerBaby, you can see the USB Type-C charging port, power indicator and hexagonal yellow power button. The indicator light has red, green and blue colors, each color for the three power status, green for more than 50% of the power, blue for less than 50 power, red for less than 10% of the power, so thst you can roughly know its power status and charge it in time.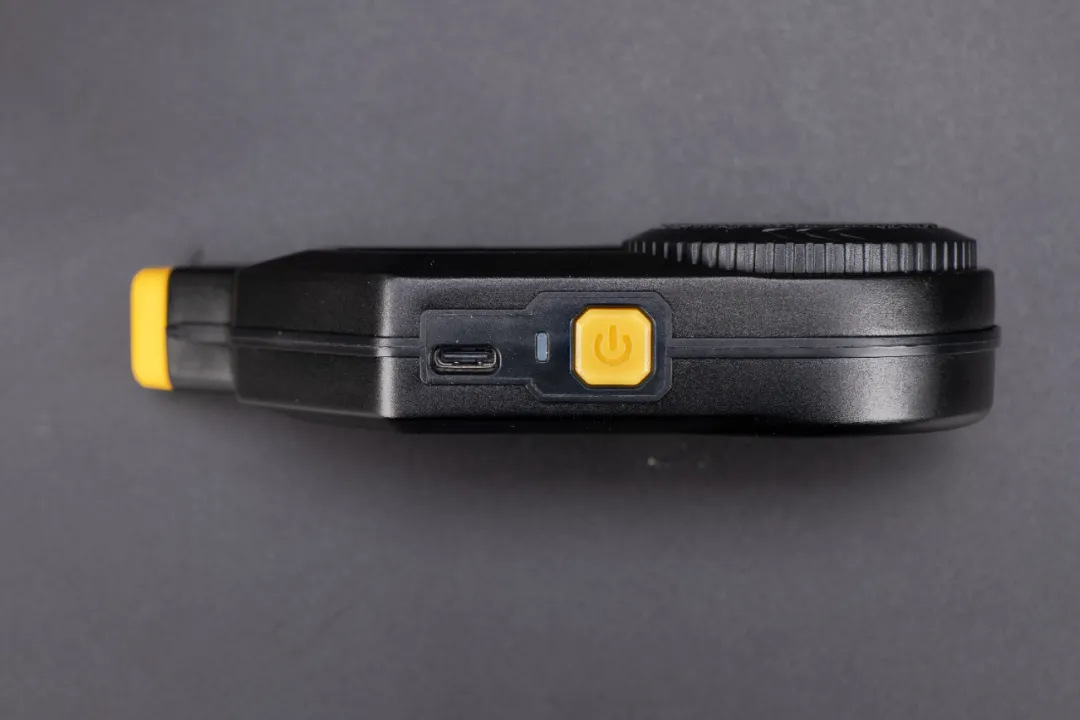 Traditional rubber air blower has two major drawbacks: 1. limited blowing force, 2. not continuous blowing. The BlowerBaby is a good solution to these problems.
First of all, in terms of blowing force, the BlowerBaby can reach a wind speed of 70km/h (We have some practical tests in the following part).
Second, blowing sustained problems, BlowerBaby has two modes of choice: 1, fast cleaning mode, long press the power button to start and let go that stop, this can be for only a short time to clean the items; 2, continuous cleaning mode, double-click the power button to start and click again to stop, this mode is convenient for a long time to clean the items, but also convenient for you to adjust the gesture. These two modes are efficient and labor-saving.
Hands-on Test
How about the actual situation of BlowerBabt to clean the camera lens? Now straight to the real world test.
001 cleaning hands-on We tested it with the Sigma 150-600mm lens, a lens we carry and shoot a lot, and today let's clean and maintain it to see if there's a difference with the previous cleaning results.
Step 1, loading the BlowerBaby with a yellow wool brush to clean the front of the lens, the soft wool brush will not scratch the surface of the lens, and blow along the lens in a circular motion to blow away the visible dust on the surface.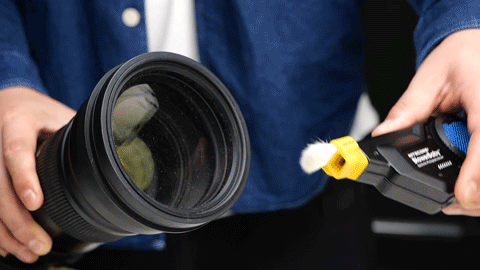 Step 2, using a carbon pen and draw a circle from the middle of the lens surface outward, this step can adsorb to the finer dust and also erase some of the more stubborn gray stains. After the carbon pen draws a circle, then blow off some carbon powder gently, you can proceed to the next step.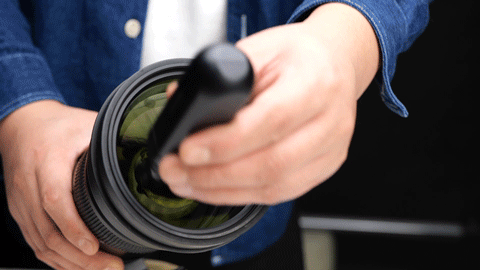 Step 3, using the lens cleaning solution sprayed on the lens cleaning special cloth, wipe the lens surface evenly.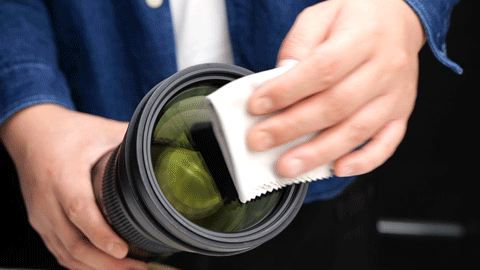 Step 4, loading the BlowerBaby with the purple hard bristle brush to do cleaning on the surface of the lens, press the switch, you can easily scrape the dust and particles attached to the narrow crevices, after cleaning you can put the lens and camera can be placed in a moisture-proof box.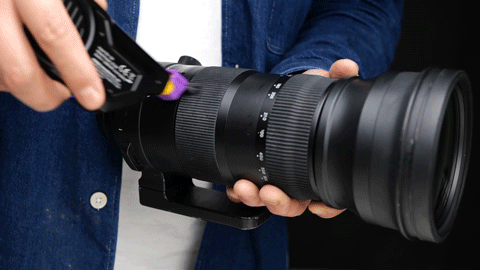 Cleaning result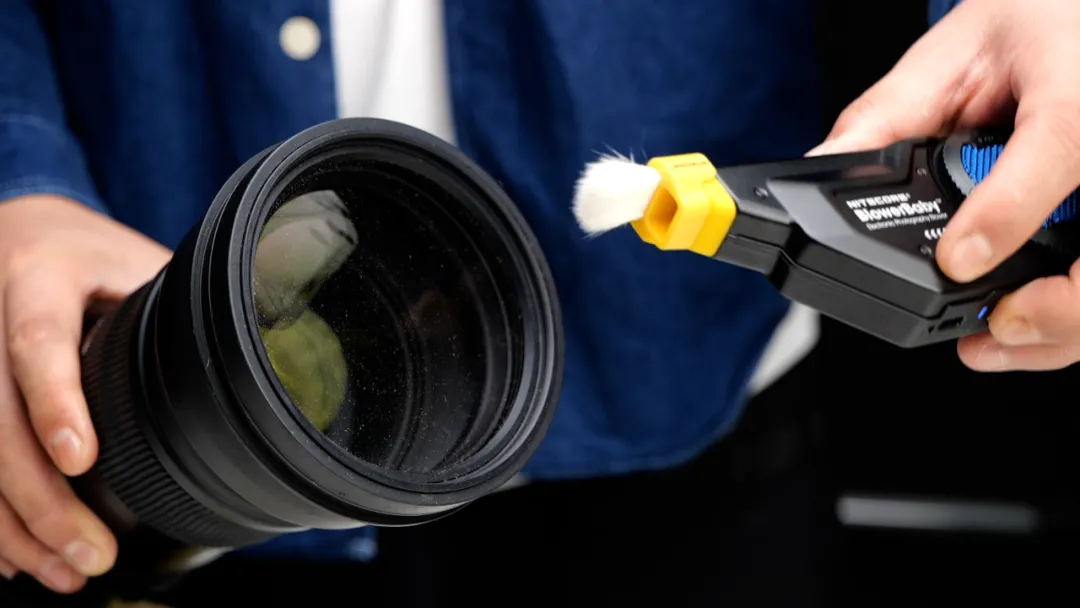 The second test is to clean the camera sensor, we replaced the filter with a blue protective mesh cover, when the BlowerBaby blowing force will drop from 70km / h to 50km / h, the wind speed is a little softer, if you want to use the fast cleaning mode, long press to start and let go that stop, you can more freely control BlowerBaby blowing.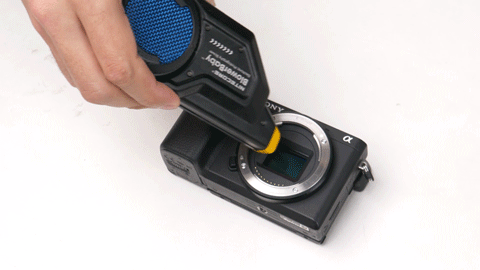 002 Battery life BlowerBaby built-in 1500mh battery, according to official claims, it can provide about 90 times the number of cleaning. At the same time, equipped with a USB Type-C charging interface, charging is also very convenient. In our actual use, you can carry out the cleaning of multiple lenses, two host sensors, and multiple handhelds.
Conclusion
The BlowerBaby itself is an electrically driven blowing product, it can be applied not only to the cleaning of photographic equipment, but also to clean other equipments, such as collection in the glass cabinet for too long and stained some dust, some mechanical hard disk surface and internal cleaning and dust removal, as well as the surface cleaning of some precision instruments, which all you can consider using BlowerBaby to clean.
Overall, compared with the traditional air blowing products, BlowerBaby with electricity to drive, high-power blowing, making fine cleaning of photography equipment more time-saving, labor-saving, I would like to recommend it to you.
Pros:
Compact and lightweight

70km/h wind speed, strong wind

Two modes of operation, efficient and labor-saving
Cons:
No gear adjustment function, the wind force can not be adjusted

Very noisy when used

A bit expensive
Source: https://bit.ly/31p1mhp